The Particular Using Ways of Safari

As a built-in browser of Apple with concise and thorough pages, the Safari has many practical functions. This article includes some latent powerful features.
Content Blocker
The iOS 9 add the content-blocking function in the Safari. It not only intercepts the advertisements, tracers, scripts and other things that slow down the loading speed, but also it protects privacy of users, reducing flux as well as improving endurance time of battery.
Here commends a simple content blocker, Filtr, which has a fast switch. Another plug-in for interceping advertisements is Adblock.
Reading List and Reading Mode
If you just use iOS and OS X, it is a good choice to use Reading List. As it has every enterance in iOS, it will add to Reading List by long pressing the link.
Even for unsupported condition, "Reading List " can be reached by "Workflow". It is very convient to operate "Action" after supporting plug-in in notification center. Sometimes it can be finished in notification center. You can select the built-in "Add to Reading List" in Workflow. Or this one I share requires adding batches of website to the "Reading List".

The Reading Mode can rearrange the pictures and words in website. There are many user-defined selections, choosing four displays and various typefaces, adjusting the size of typeface, and all of them can meet your needs.
iCloud Keychain
To help memorizing password, some people will use the key management tools such as 1Passwor, Lastpass. In fact, combining iCloud Keychain with automatic password filling function, Safari reaches password storing. iCloud Keychain is a password management of Safari released in 2013. It has the features of secure password creation, password storage, automatic fill-in and syncing across devices. It is a qualified password management tool supporting the encryption of data.
The main points are as follow.
Secure Password Creation
Keychain will create a secure password when you sign in a new account and store it on iCloud.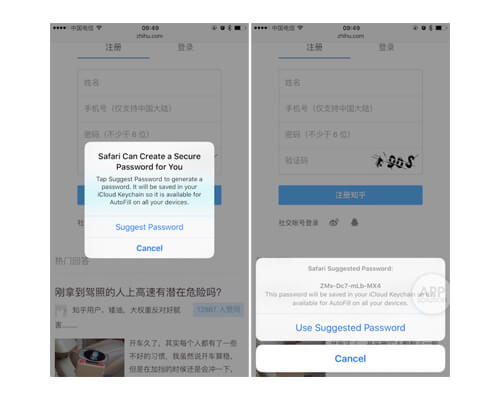 Password Storage
Safari can remember different accounts&passwords on different websites, and store them in iCloud with permission. You can also add by yourself, following Settings-Safari-Password. You can check the stored accounts and passwords here.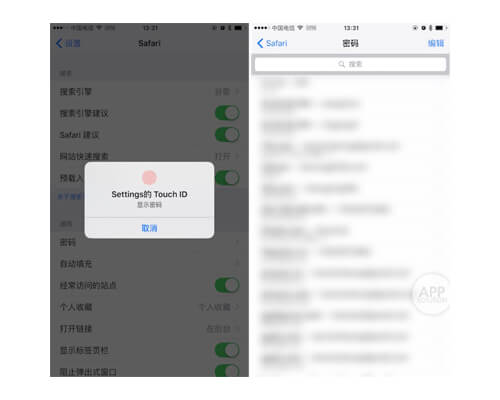 Automatic Fill-in
It can fill in the account and password automatically when you log in. If you have multiple accounts, click the "password" on the top of keyboard and choose any account by Touch ID.
Syncing across devices
It supports storing accounts and passwords in different iOS and Mac devices. You can select whenever you like.
Attention: iCloud Syncing could probably get stuck sometimes, so it is better to take it as a standby way. this way is also suitable for users who has multiple devices.
Subscribe Shared Links
You can subscribe Weibo and Twitter by iOS Built-in sharing service and show the articles of shared links in Timeline. When you click the link, Sarari will turn the page into reading mode automatically. Swipe up and down to switch last and next links. With these functions, you don't need to open the apps.
iCloud Tabs & Handoff
It provides users with a perfect syncing experience across devices as long as you use the same iCloud account in different devices.
iCloud Tabs requires you to fast open or close pages in other devices.
Handoff helpsd open the browsing pages of Mac on iPhone, which is available on iOS and OS X devices. For example, if you want to install an app opened in Mac, you can download the app on your phone via Handoff.
Some advanced operation skills
1.Safari won't remember the pages you visited when you open "Private Browsing Mode"
2.Long press "+" to reopen the pages closed
3.Long press "forward" "backward" to locate history
4.Long press "bookmarks" to select to add bookmarks or reading list
5.Long press "Address Bar"to copy the current page. Paste and search directly if there are contents in clipboard.
6.Long press "refresh"to show "Request Destop Site " and "close Content Blocker"
7.Change defaulted search engine in Settings
8.Use camera to scan the credit card, and Safari will recognize the number and fill in
9.Click one or two times on top of status bar to go back to the top